Coat of Arms
On a field of silver, a battlemented castle on azure ocean waves, superimposed on a Cruz de Santiago (Cross of St James) of heraldic red. On either side of the fortress, seemingly that of Aledo, are a sword and a sable key, both of which are inverted. Stamp of the royal crown.

Flag
The origin of the town's flag dates back to April 14, 1257, after King Alfonso X had conquered the fortress of Aledo and the outlying area of Totana from the Muslims. These were then surrendered to the Orden de Santiago (Order of St James) in exchange for the cities of Callosa, Catral and Elda which had belonged to the aforementioned Order and had been handed over to Prince
Manuel, brother of King Alfonso, when he was named Governor of Murcia. These events have influenced significantly the heraldic symbols of Aledo and Totana.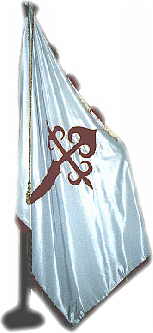 This flag is now used once again as the standard of Totana, despite its disappearance in the past, thanks to the efforts of Doña María del Carmen Crespo, the town archivist. Documents have revealed that the said flag cost the Council of Totana 25 ducats, although it is not known where the flag was embroidered.
The flag is as described below:
The 'lizard' of Nuestro Señor Santiago (Our Father St James) in the centre on a white background.
The term 'lizard', meaning red sword, was the emblem of the Orden de Santiago (Order of St James) and it was used to refer to the crimson Cross of this Military Order.
The flag was bordered with golden and crimson tassels and braids of the same colour were hung from the flagpole.